[ad_1]

Gadaa Bank is established to contribute towards economic empowerment and holistic transformation of the low & medium-income section of the population in the country. The founding members made an intensive reflection on the livelihoods of large majority of Ethiopian farmers, pastoralists, young college graduates with entrepreneurial skills and women who do not have access to financial services in general and in particular to loan types that suits their contexts. These has made the establishment of the bank with more than 28,000 shareholders.  Founding shareholders deserve appreciation in the establishment of  Gadaa Bank.
The founding shareholders meeting has been conducted in August 2021. In this meeting, eleven board of directors composed of appropriate professionals has been elected to lead the bank. The board of directors has also appointed CEO to lead the bank. Accordingly, Gadaa Bank has earned its license on 26th April 2022 to join the Ethiopian banking business.
Gadaa Bank SC External Vacancy Announcement
1. Manager -Strategy planning, Monitoring & Evaluation Division
2. Manager-Application Development and Support Division
3. Customer Relationship Manager- IFB
4. Principal Application System Modernization
5. Principal Strategy and Research Officer
6. Senior Website Management Officer
7. Senior Financing and Investment Officer- IFB
8. Financing and Investment Officer
9. Internal Auditor
10. Management Information System Officer
11. Credit Analyst
12. Branch Manager I
13. Branch Accountant
14. Senior Cashier
15. Driver I (Light Vehicle Driver)
16. Motorist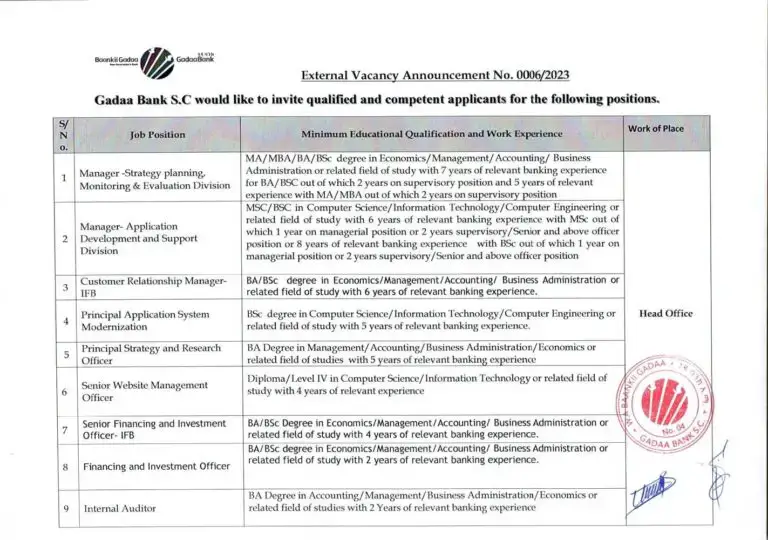 Application Date: August 14-19, 2023.
Interested applicants are invited to view set requirements and apply via the link Below:
https://gadaabank.com.et/gbvacancy/ within the set deadline.
Also Check – Insurance jobs
[ad_2]
N.B.
Applicants must follow the link and fill out the application form to be considered for the role.
You should read the vacancy announcement carefully, check the vacancy details, prepare your CV or Application details, and submit your application as instructed by the organization.
Visit our website to find updated job vacancies: https://sholajobs.com
Join Our Telegram if You have not Joined it Already
Join us on Telegram ስራዎችን በቴሌግራም ለመከታተል ይህንን ይጫኑ
Telegram channel: https://t.me/ngoethiopia
Please remember to visit www.sholajobs.com whenever you're looking for a job in Ethiopia. We hope the site will help you find exactly what you're looking for.